eLearning courses at high speed!
Rapid eLearning is a process by which organizations are able to create eLearning courses quickly. Rapid eLearning involves the use of Authoring Tools like Articulate Storyline, Adobe Captivate and Lectora. These authoring tools have intuitive user interface, ready-to-use templates, customizable actions according to user input and variables built in, which saves enormously on design and production time and costs. At Adebiaye, we have many years of experience creating a wide variety of high quality eLearning courses.
Advantages of using Rapid eLearning Authoring Tools:
Low learning curve with an easy to use interfaces.
Fast development – A fraction of time is needed to develop typical eLearning courses. Updates and maintenance is easy to perform.
Highly reduced development costs using templates, assets and interactions already available.
ISubject matter experts can be optimally used since they can put together the courses quickly.
Updates and maintenance are easy to perform.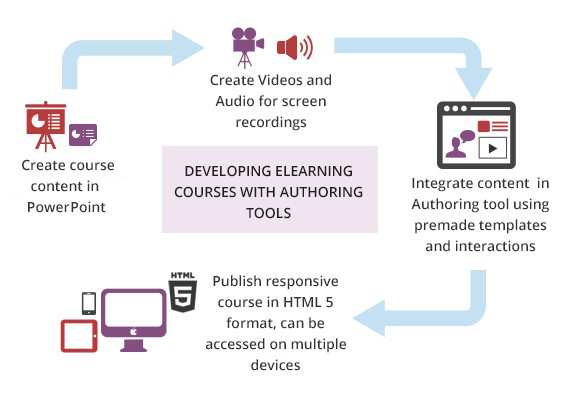 Rapid eLearning Authoring Tools
At Adebiaye, we are proficient in the use of Articulate Storyline, Adobe Captivate and Lectora. Here are some highlights of each:
Articulate Storyline based courses
Easily import PowerPoint content and publish to HTML5.
Create screen recordings and produce professional quality videos that can easily be incorporated into online courses.
Publish content to HTML5, iPads and various other devices that do not use Flash
47,500 combinations of characters, expressions and poses available.
Build interactions easily.
Get amazing, instant interactivity with drop buttons, sliders, markers and hotspots.
Adobe Captivate based courses
Author the course just once and create responsive user experiences for multiple devices.
Achieve realistic animations and interactions with multi-state objects and responsive motion effects – more than 25,000 free assets.
Access to customizable interactions and games for an enhanced user experience.
Author can create almost any kind of responsive interactive eLearning content.
Create complex eLearning workflows and simulations.
Lectora based courses
Easily publish SCORM/AICC compliant courses.
Creates responsive content that is published in HTML5 format for multiple devices.
Incorporate existing content ranging from Power Point, Audio, SWF's and images.
Has additional editing tools, such as an image, audio and video editor.
Richer and more complex than most authoring tools.
Check out our ecommerce solutions